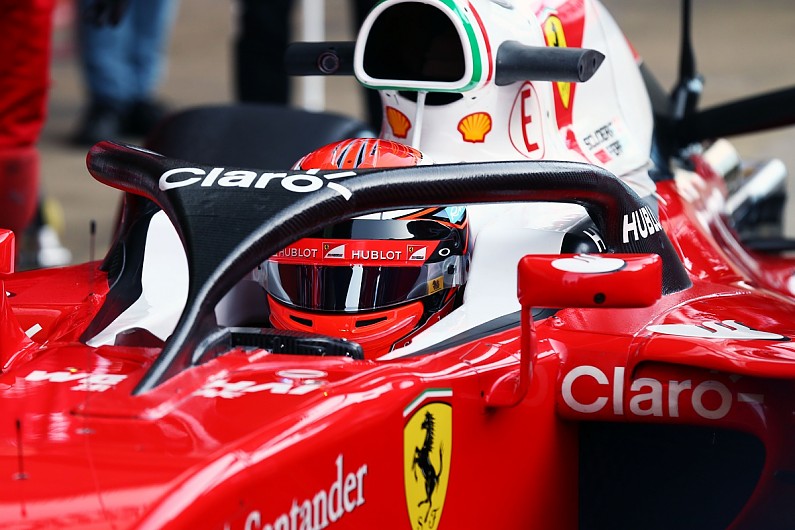 Ferrari will conduct static tests of an updated halo Formula 1 cockpit protection device in the Red Bull Ring's pitlane on Thursday afternoon, ahead of the Austrian Grand Prix.
The fresh tests include extrication, to see how quickly a driver can remove himself from the cockpit of the car with the device fitted.
Sebastian Vettel looks set to then complete an installation lap with the updated halo on his Ferrari at the start of first practice on Friday morning.
Ferrari initially trialled the halo during pre-season testing at Barcelona in February, with Vettel and Kimi Raikkonen conducting an installation lap apiece.
The halo received mixed reviews and, despite competition since from Red Bull's aeroscreen, has emerged as the preferred option and is set to be on all F1 cars for the 2017 season.
Developed in conjunction with the FIA, and following numerous tests, Ferrari's 'halo 2' is made of titanium and therefore much lighter but just as robust, and is now more refined in terms of its overall structure.
Autosport understands further improvements are required and that another update – effectively 'halo 3' – will be forthcoming ahead of its planned 2017 introduction.
A further Technical Regulation Meeting is scheduled next week between the Austrian and British GPs, with the halo prominent on the agenda.
After the meeting, the FIA is then due to confirm the mandatory introduction of the system for all cars for 2017.
The aeroscreen is not off the table for 2018 as it is the preferred device of many in the paddock, despite failing FIA tests.
Red Bull, however, has suspended development given it is focusing its resources on the significant technical regulation changes for 2017.
Team principal Christian Horner concedes it has gone "all quiet" on the aeroscreen, adding: "We're waiting for some direction back from the FIA.
"At the moment they've been very quiet, so I think first of all let's hear what they've got to say and then we can act accordingly."
Daniel Ricciardo is hoping the aeroscreen is not scrapped on cost grounds.
"Don't get me wrong, I think the cars will look better without anything," he said.
"But again it's not really one for looks. If it's purely for safety then it shouldn't really be won on cost grounds either.
"It still needs to be addressed and attended to, so I'd be disappointed if they shut it down completely."