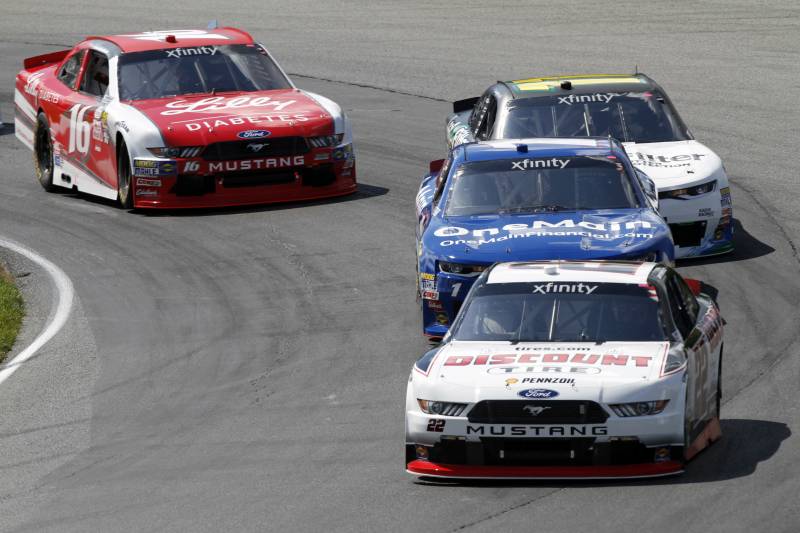 Tom E. Puskar/Associated Press
Sam Hornish Jr. led 61 of 75 laps to win his fifth career NASCAR Xfinity Series race Saturday, taking the checkered flag in the Mid-Ohio Challenge at Mid-Ohio Sports Car Course in Lexington, Ohio.
The win marked Hornish's first of the season in just his third start, as he drove away from rookie Daniel Hemric in the closing laps to preserve the victory.
Here is a rundown of the top 10 finishers, courtesy of NASCAR.com:
1. Sam Hornish Jr.
2. Daniel Hemric
3. Matt Tifft
4. James Davison
5. Andy Lally
6. Elliott Sadler
7. Brendan Gaughan
8. Brennan Poole
9. Justin Marks
10. Dakoda Armstrong
Saturday's win was a redemption story of sorts for Hornish since he had to settle for a second-place finish in last year's race at his hometown track of Mid-Ohio.
As has been usual, several spin-outs, wrecks, yellow flags and red flags highlighted the Mid-Ohio Challenge.
Many of the younger drivers in the Xfinity Series don't have much experience when it comes to road-course racing, and that was on full display throughout.
It took just 15 laps for the first major accident to occur, as Matt Bell went barreling off course and into a barricade.
With only 20 laps in the first stage, there was a sense of urgency for drivers near the front to pick up some playoff points.
That was apparent when Brennan Poole got over-anxious and took out Sadler while he was leading.
With so much action packed into just 20 laps, Mid-Ohio was shaping up to be one of the year's most exciting Xfinity events.
Hornish went on to win the second stage, and although Hemric beat him off pit road for the lead to start the third stage, it didn't take long for the veteran to make the pass for first.
The final 25 laps of the race were a battle of attrition since there were seemingly issues and stoppages every few minutes.
One of the day's biggest mishaps occurred on Lap 51 when another error by Poole resulted in several playoff hopefuls piling up.
Among those involved in the incident were Koch, Ryan Reed, Spencer Gallagher, Jeremy Clements and Regan Smith.
Reed was able to get back on the track, but his day was done just a few laps later when he collided with 2016 Mid-Ohio winner Justin Marks:
Hornish and Hemric continued to battle for the lead amid the chaos, but the jousting stopped temporarily when the red flag came out with eight laps remaining.
A quarter of the field incurred some level of damage in the pile-up, so NASCAR halted the race for a second time:
Hornish was in the lead at the time the red flag came out, and he extended it once the race went green again with five laps to go with Hemric and Matt Tifft fighting for second place, it gave Hornish an opportunity to build on his advantage.
Hornish has a ton of experience as a road-course racer dating back to his time in the Indy Racing League, and that played into his hands during the race's highest-pressure situations.
The win doesn't have much of an impact on the Xfinity Series standings since Hornish doesn't have a full-time ride, but it made for one of the year's biggest feel-good moments due to his previous close calls at a track he is so closely connected to.